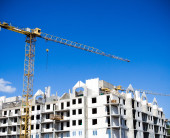 So… why is Pre- and Post-Construction Cleaning such an integral part of your Project?
You've spent countless hours building a project you're proud of. So when it comes to the final presentation, we all know that image is everything. Presentation shows a sense of pride about your company and it could even be the reason why your clients choose to do business with you over your completion.
Construction without a doubt is a very dusty job, leaving a lot of dirt and debris in its way. Trash often remains after each stage of construction and after the project is complete and the dust settles your only concern is to effectively move tenants in as quickly and safely as possible.
You want to make sure that the finishing touches on our project leaves an impression on your customer that reflects the kind of quality and value that you want to portray.
It's important to make sure that included are all the stages of construction clean up. Regardless if your services cover new and renovated residential or commercial projects, we all know that every project is unique so your cleaning services should be custom-built to your needs and timelines to keep your project on schedule.
Here are some steps that should be considered for a good Post Construction Cleaning…